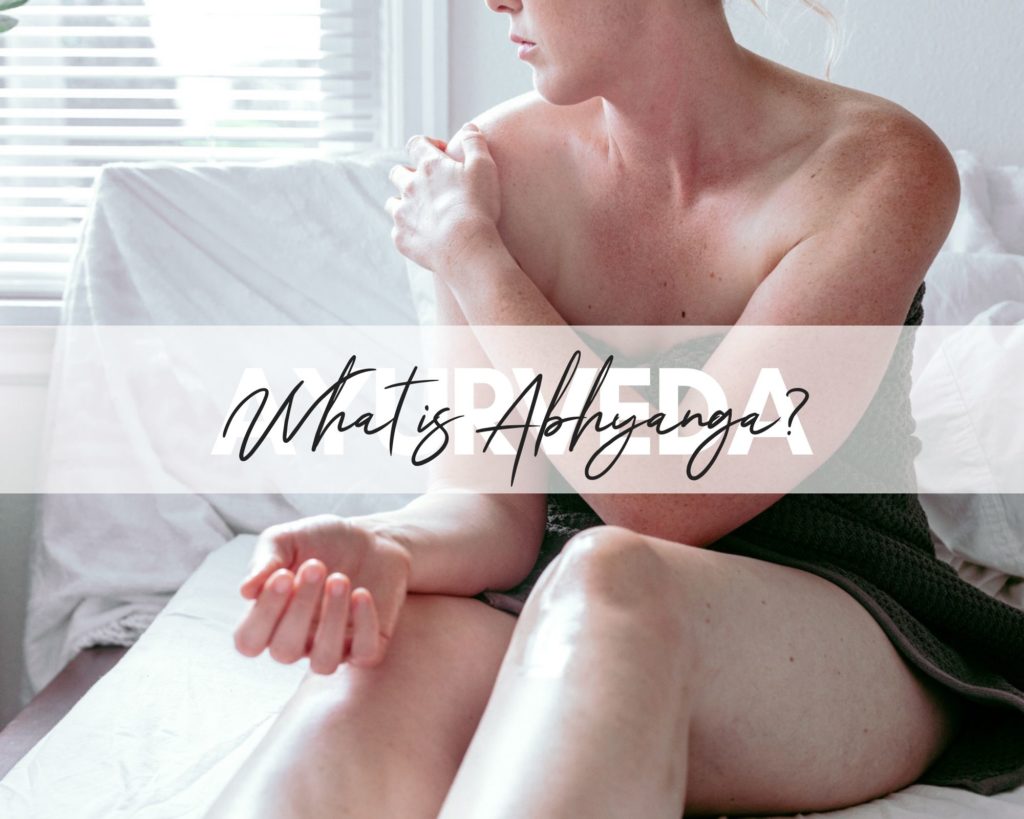 As you delve into an Ayurvedic practice, you may come across the word Abhyanga. Like many words in the ancient practice of Ayurveda, Abhyanga is a Sanskrit word. Abhi means "into," and anga means "limb," so Abhyanga roughly translates into "massaging the body's limbs." Read more about the history of Abhyanga. Abhyanga isn't just a massage, though, so what is it?
What Is Abhyanga?
Abhyanga is a special kind of warm oil massage. It incorporates different oils depending on your dosha and what you need most at that time. Abhyanga can help you achieve balance in your doshas, especially Vata dosha. It's an incredible way to carve out "you time," express love to yourself and connect with your body. An abhyanga massage helps you:
Release toxins, especially stubborn adipose or stagnant areas.

Promote circulation so your body can bring nutrients and oxygen to your cells

Improve digestion.

Energize your body and mind.

Postpone effects of aging, bringing nutrients to muscles and helping to tone them.

Sleep better.

Nourish your body.

Promote skin and hair health by stimulating skin and hair follicles.

Encourages lymph drainage.

Calms the nervous system to reduce stress and anxiety.

Release endorphins, dopamine, and serotonin to encourage feelings of peace and happiness.
Abhyanga massages aren't just for relaxation; they promote real healing. We strongly encourage you to incorporate them into your daily Ayurvedic routine.
How To Perform an Abhyanga Massage
To give yourself an abhyanga massage, perform the following:
First, choose an oil and pour it into a bowl. 

Warm the oil by placing the bowl in a container of boiling water or on a hot plate. 

When the oil is sufficiently warmed, take the bowl off the heat source. 

Then, remove your clothes and sit on a soft towel. Dip the tips of your fingers into the oil and take some into your palms.

Begin massaging at your scalp, then apply oil to your face, slowly working your way down your body. 

Use both upward and downward strokes when massaging your hands and legs. On joints, chest, and abdomen, use circular massaging motions. 

Massage your body for around 15 minutes, then sit and allow the oil to sink in for another 15 minutes. Use this time to sit quietly, meditate, read, or perform some other sedentary activity. 

Lastly, using your towel, rub off the excess oil.

Shower, but do not wash too vigorously, allowing the oils to penetrate your skin further.
Abhyanga Oils For Balancing Doshas
Each dosha has different characteristics, and each of us has a unique composition of dosha energies in our body, and these energies can shift. Usually, we have one dosha that exists more dominantly in our bodies than others. Not sure which dosha you identify with most? Let me help you find out here! Ayurvedic principles state that like attracts like. When we use oils for Abhyanga massage, we want to attempt to balance our dominant dosha, or whatever dosha we find is out of balance, by choosing an oil with the opposite characteristics.
Oils For Vata
Vata dosha is light, dry, subtle, and cool. Many Vata-dominant people suffer from dry skin and achy joints. To balance Vata, choose oils that are warm and nourishing, such as:
These oils can bring much-needed warmth to a Vata body. 
Oils For Pitta
Pitta dosha is hot, oily, and sharp. Our Pitta people are often fiery and fierce. Therefore, they need cooling oils like:
Pitta-type people also benefit from lighter massages with smoother, slower strokes that help balance out all their sharp edges.
Oils For Kapha
Kapha dosha is heavy, cool, slow, and sticky. Kapha people often have smooth, soft skin. They benefit from warm, rejuvenating oils like:
Unlike Pittas, who might need soft massages, Kapha types need hard, firm massages to receive the same benefit.
Abhyanga Oils For All Doshas
While some oils are great for certain doshas, there are others that all dosha types can benefit from.
Bhringraj oil does wonders stimulating your skin and scalp, no matter your dosha. 

Mahanarayan oil helps warm joints and is an excellent choice for any dosha.
Abhyanga: Self-Care Massage To Balance Your Dosha
What could be better than a little self-care massage worked into your routine? How about a massage that also helps balance your dosha? When we take the time to love our bodies, we familiarize ourselves with… ourselves! When we know what we feel like when we are at peace and balanced, we can quickly identify when we are feeling out of balance or stressed. The more in tune we are with our bodies, the better we know when something is wrong. Taking time out of our day to simply listen to our bodies is paramount to our health. Balancing our doshas leads us to feel our best, too, allowing us to go forth into the universe in our highest forms.