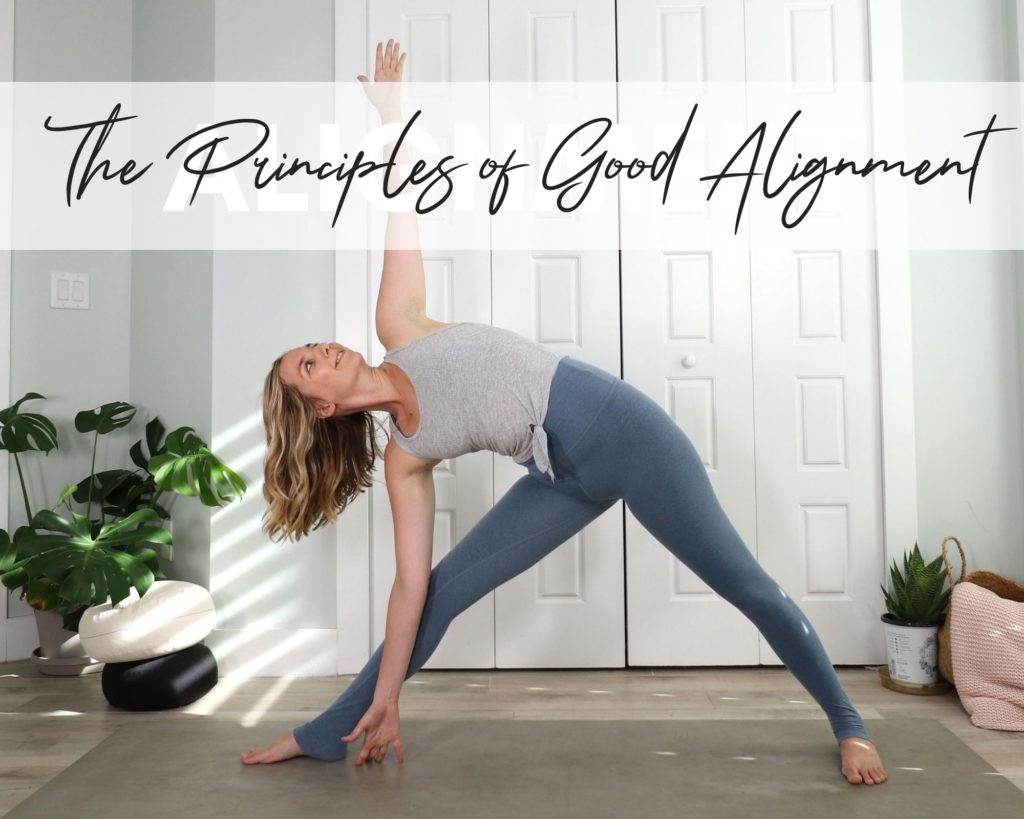 Incorporating Yoga into our daily life helps us to improve our physical and mental well-being. Practicing Yoga does a lot more than just bestowing a good body shape upon us. From enhancing our strength and relieving chronic diseases, Yoga also helps us achieve a calm and clear mind. However, to enjoy maximum benefits, we must obey its alignment principles.
If you have ever joined a Yoga class, you must be very familiar with a few phrases like, "stacking the joints," "lengthening of the spine," etc. These are the terms most Yoga trainers use to ensure that you appropriately arrange your body in a Yoga posture. Yoga has immense healing power, but only when practiced accurately. Proper alignment in Yoga maximizes its benefits and reduces the risk of injury.
What is Alignment
Many of us might get freaked out with the suggestion of 'ideal' alignment, as we all have a different body structure and ability level. However, the truth is, alignment for each asana is a flexible structure designed for practitioners of all shapes, sizes, and skill levels. No matter which forms of Yoga you are practicing, I recommend using props and modifications to safely achieve the full benefits of the practice.
Without proper alignment, the risk of injury or tearing of tissues increases. According to experts, it is the foundation for safe and appropriate practice. For beginners, optimal alignment can sometimes be challenging; thus, teachers often encourage props from the initial practice stages.
Alignment is not only about how your Yoga pose looks. Instead, it is about what works for you. Thus, yoga alignment divides into two aspects. To get the most out of the yoga it is important to understand the difference.
Functional – Alignment that makes each of the biomechanics (muscles and joint) optimally is called functional alignment. Such alignments are designed from the aspect of the structure of our body parts so that the body can perform a pose without going beyond its constraints. Functional alignment ensures optimum safety and performance of an individual. For example, we all know that it is essential for the integrity of a human body that our spine is straight. Thus, while doing Yoga, trainers always instruct us to keep our spine, neck, and head in one straight line.
Aesthetics – The aesthetic aspect of alignment focuses more on the attractiveness of the pose than on safety. Many practitioners aim at achieving the proper expression of a pose that might not be achievable or safe for every individual. Each of us has different body structures and abilities. Thus, perfect angles and lines are not principles for each of us. For example, aesthetically, for Warrior 2 pose, it is important to keep the front knee in straight 90 degrees. But if you are a novice, getting perfect 90 degrees of your knee can hurt your body.
Importance of Alignments
Now that we know the definition and aspects of alignment, it is crucial to understand its benefits. Alignment based on your body type, flexibility, and ability level not only safeguards you from injury but also gives you optimal results.
Ensure Safety- Most of the injuries during Yoga occur due to improper alignment. Knowing how to align your body for a particular pose protects you from injuries, harmful movements, pain, and discomfort.
Encourage Connection with Body- Practicing Yoga with proper alignment improves your awareness about your body and promotes your body's overall wellness. It is believed that alignments also foster a positive connection between your body and mind.
Build Concentration- With proper alignment, your mind will focus on positioning your body and utilizing your breath. Thus, it will clear your mind and stop it from wandering.
Promote Efficient Practice- When you arrange your body in anatomically correct positions, the flow of energy increases that fine-tunes each of your movements. Using proper alignment techniques, you can even make the poses more comfortable to perform.
Build a Better Foundation- Building strength and enhancing flexibility is the main motive of practicing Yoga. Practicing proper alignment is vital to achieve the body's integration and perform the pose with the full expression.
Corrects Unhealthy Habits- If you are already practicing Yoga without proper alignment, you might develop some unhealthy movement patterns. Learning about the principles of alignment helps you to modify your practice and develop better movement patterns.
Help with Mindfulness- When you start practicing Yoga with proper alignment techniques, it not only helps to correct your moves but also to perform better in your day-to-day life. Proper body alignment helps you with mindfulness and makes you more productive in your everyday life. With regular practice of these techniques, you can also correct your overall body posture.
Principles of Alignment
As we have already discussed the importance of alignment while practicing yoga, it's time to discuss some of the universal principles of alignment that will strengthen your body and relax your mind safely and more healthily.
While starting off, it is important that you first align the posture base and then gradually move upward. For healthy and safe yoga practice, you must pay attention to erecting a solid base. So, while practicing a pose that involves your feet's positioning, press them into the ground for stability and support.
No matter which Asana you are performing, to get most out of it and practice it without the risk of any injury, stacking your joints play a very crucial role. For example, while performing Table pose, your shoulders must always stack over your wrists.
From inversions to twists, each Yoga pose involves core strength. Thus, to perform a yoga pose correctly, try to stabilize your core. This method is a very effective way to support your overall structure and strengthen your abdominal muscles.
While performing yoga, keep your spine, neck, and head in straight alignment. Consider your neck as the extension of your spine. Such alignment is an effective way to reduce the risk of upper vertebrae damage and helps you to attain a good and healthy posture.
While performing yoga, we are more likely to injure ourselves while transiting in and out poses. During such movements always use your breath; it creates tension in your body, protecting it from a muscular injury.
Understanding the principles of alignment is crucial as it helps you to practice yoga safely, yet efficiently. However, it is always a good idea to talk to a teacher before starting. Remember, optimum alignment might vary with your body structure, shape, and ability. So, if your trainer is asking to modify your pose, follow their instructions.
You might also like our blog post about the Importance of Posture