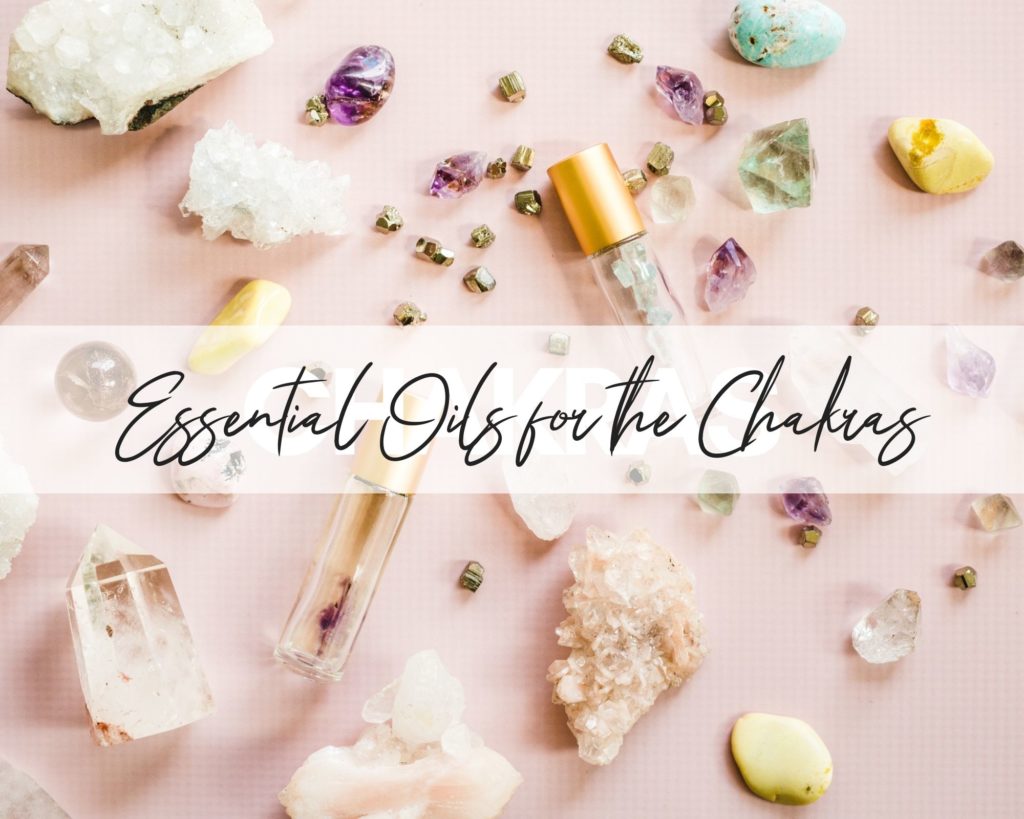 We talk a lot about balancing our chakras to find balance and thrive. The reason I talk about it so much is because it's SO important. When we seek balance and our center, it's best to use all the tools in our Ayurvedic arsenal to achieve our optimal health. As a matter of fact, one of those tools is the power of essential oils for each chakra. 
Essential Oils and Aromatherapy
Essential oils are strong-smelling liquids derived from natural elements like flowers and herbs. Further, we use these oils to benefit our chakras and bodies via aromatherapy. Aromatherapy is the practice of using scents in a medicinal capacity. So, here is my favorite essential oil for balancing each chakra.
Essential Oils and More For Each Chakra
Read on for my best essential oil for each chakra, as well as crystals and mantras to promote even more healing!
Root Chakra
The root chakra symbolizes grounding, safety, survival, and deriving nourishment from Earth's energy. 
Essential oil: Red spikenard is a root chakra essential. Spikenard has been used medicinally and in religious ceremonies for centuries. This scent has a distinct grounding effect, which makes it perfect for stimulating that root chakra. Moreover, Spikenard helps you feel in control and stable. Indeed, massage the bottoms of your feet, with the intention, to stimulate your root chakra.
Crystal: The perfect crystal for your root chakra is petrified wood.
Mantras: I am grounded, at peace, and at ease.
Sacral Chakra
The sacral chakra is associated with creativity, sexuality, and emotions. 
Essential oil: Pink pepper seed is excellent for the sacral chakra. It evokes feelings of eroticism and sexual desire and helps you love being in your own body. Furthermore, pepper seed also helps heal feelings of shame or vulnerability about your body. Have a trusted friend massage your lower back to stimulate your sacral chakra. 
Crystal: My favorite crystal for the sacral chakra is fire opal.
Mantra: I am a work of art.
Solar Plexus Chakra
The solar plexus chakra represents willpower, intellect, and mental acuity.
Essential oil: to support your solar plexus chakra, I really enjoy black pepper. In fact, Black pepper helps transform mental concepts and explore rigid patterns. Moreover, this essential oil encourages us to see new solutions to old problems, expand our minds, and seek alternative perspectives. Indeed, gently massage your abdomen to stimulate this chakra.
Crystal: Pineapple calcite is my favorite embodiment of the solar plexus chakra.
Mantra: I am capable and competent.
Heart Chakra
The heart chakra is the middle chakra, and it is a bridge between the lower (physical) chakras and the upper (spiritual) chakras.
Essential oil: Rose oil is the classic essential oil for the heart chakra, which probably doesn't surprise you. Roses (and their typical pink or red coloration) are closely associated with the heart and feelings of love. Furthermore, rose oil encourages self-love, love of others, compassion, gentleness, and a desire to find enlightenment via our heart path. As a matter of fact, massage the breast bone or the middle back to stimulate your heart chakra.
Crystal: Rose quartz is my unsurprising but still favorite crystal for the heart chakra. 
Mantra: I lead with love and compassion.
Throat Chakra
The throat chakra gives our heart chakras' emotions a physical voice to express them. Indeed, a balanced throat chakra allows us to express our truth and our love clearly and with honesty. 
Essential oil: Frankincense is my go-to for the throat chakra. It encourages our power to communicate with clear and effective speech. It discourages our tendencies to speak reactively, to have clarity and grace in our responses instead. Use a body spray to apply essential oils to your neck to stimulate this chakra.
Crystal: For the throat chakra, I have a tie when it comes to crystals. My favorite crystals for the throat chakra are aquamarine and blue topaz.
Mantra: I speak boldly and confidently.
Third Eye Chakra
The third eye chakra controls our ability to see the bigger picture and see what lies beneath things' surface. This chakra is directly connected to our intuition.
Essential oil: To help open my third eye chakra, I usually use lemon essential oil. Lemon helps us connect to our intuition, expand our thought processes, and organize new information. So, to stimulate the third eye chakra, either anoint your forehead or use a diffuser to inhale them.
Crystal: For the third eye chakra, utilize lapis lazuli.
Mantra: I and only I know what is best for me.
Crown Chakra
The crown chakra sits atop the crown of your head. Indeed, this chakra serves as our spiritual connection with the divine. The crown chakra is the chakra of enlightenment, helping us understand our place in the universe and who we are beyond our physical bodies.
Essential oil: White lotus flower is my favorite essential oil for the crown chakra. The lotus appears across cultures as a symbol of the path to enlightenment. It stimulates your unconscious and cultivates a desire to get to know our deepest inner self. To stimulate your crown chakra with essential oil, diffuse them while meditating.
Crystal: For the crown chakra, stick with clear quartz, as this symbolizes the divine's purity and mystery.
Mantra: I am light, I am peace.
Balancing Chakras With Essential Oils For Each Chakra
When it comes to keeping our chakras balanced, essential oils are just one of the many tools we use. When using aromatherapy or oil massage to balance chakras, start from the ground up. Unless you know exactly which chakra is causing you trouble, start with your root chakra and care for each chakra individually before finishing with your crown chakra. Your body will thank you!