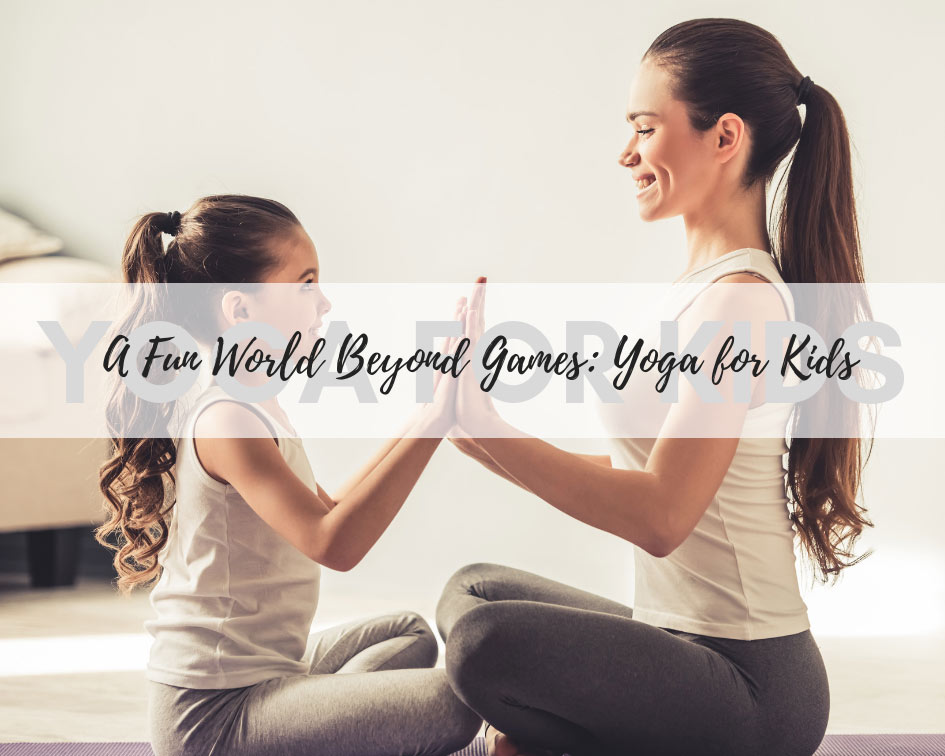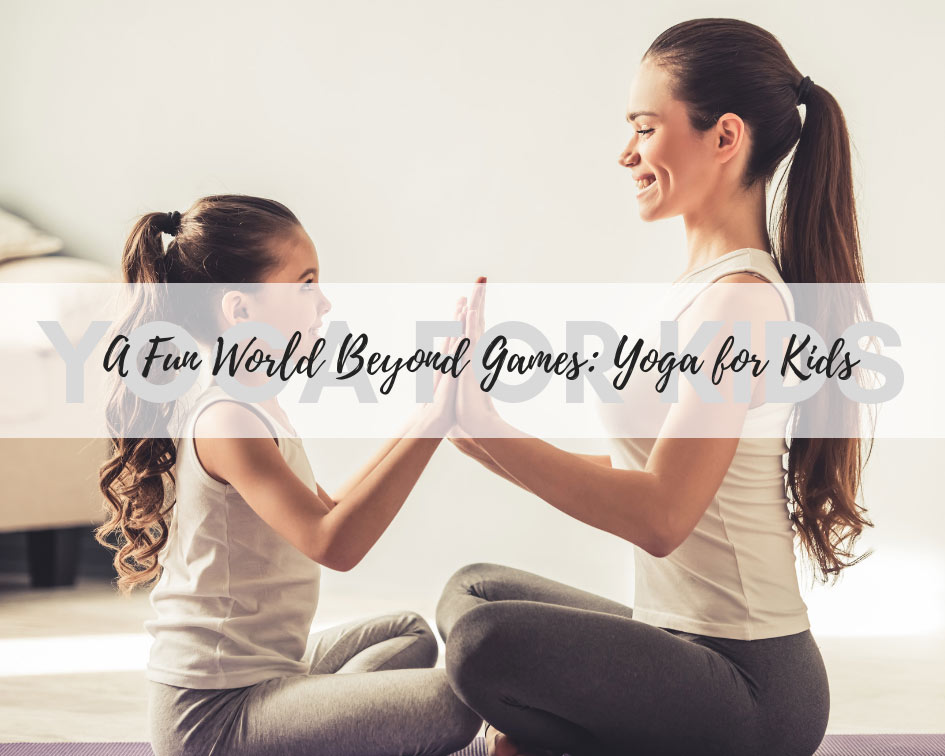 School, homework, sports, after-school activities – the list goes on. In today's fast-paced world, children struggle to fit in their daily activities. Though in most cases we are ignorant of the fact, kids, like adults, have their fair share of stress every day.
Adults have a way of finding efficient ways to deal with and adopt effectual de-stress procedures. However, kids need to be taught to cope with such situations from a tender age. This is exactly where yoga comes into play. With an increased level of awareness, parents are paying greater attention to making yoga an effective de-stress technique for kids.
How Can Kids Benefit from Yoga?
A Step Toward Self-Acceptance
Yoga opens a door of opportunities for children to learn something beyond the shackles of competition. However, what surpasses that is the ability of a child to cherish and accept themselves in the process. With society burdening them with a banner of inadequacy all the time, yoga teaches them to fall in love with themselves and shake off feelings of reluctance and self-doubt.
Exposure to Meditation
Mindfulness and diligence are achieved by focusing your awareness on the present while concentrating on other subsequent feelings and finding a way to release them. Meditation helps a child focus on his/her breath and consequent poses, thus enabling them to let go of other thoughts and center their complete focus on the present. Exposing a child to meditation is one of the of the best relaxation methods that can be adopted.
A Healthy Body
Practicing yoga on a regular basis strengthens the body of a child while improving balance and coordination. Stretching exercises and yoga enhance the blood flow and reduce the chances of severe damage due to injuries.
Improvement in Balance
Balancing yoga poses is a great way to increase a child's attention naturally. Kids having concentration problems are better equipped to live their lives through yoga. Yoga poses that primarily focus on balancing skills help evoke a feeling of calmness and strength within a child.
Tips for Doing Yoga with Children
1. The Surprise Element
Once you are done teaching your child a yoga pose, do not fret about whether the pose is perfect. Let them add on to the surprise element through the process. At times, yoga can just be about having fun. You never know the pose children might surprise you with.
2. Pay Attention to the Basics
Kids absolutely love indulging in beginner poses like the Tree Pose, Easy Pose, and Downward-Facing Dog pose. Focus on these basic postures to incorporate the fun factor for your child in their regular hours of yoga sessions. What more? Participate in the sessions and be a part of their learning process.
3. Modify Poses for Added Fun
You can always team up with your child and add modifications to regular yogic poses to make them enjoy more. Doing this will eventually help you focus on the overall development of your child and make yoga a fun activity for them.
4. Go for Animal Poses
Animal poses are ones that usually tend to resonate with children as they become quite familiar with common animal names via textbooks. Opt for poses like the butterfly pose or the camel pose so that your children can relate to yoga at a greater level.
Best Yogic Poses for Your Little Star
(We took ideas for the following poses form www.namastekid.com which is a great website for every mom, dad, and teacher who wants to include yoga into their kids routine)
The list of yogic postures happens to be a long one with the simplest and complicated of poses clubbed together to create the perfect yoga regime. Nevertheless, there are a few specific postures that have proven to aid overall physical growth and mental awareness in a child.
Mouse Pose (Child's Pose)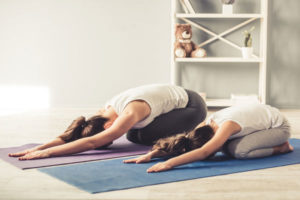 Extended Child's Pose is one of the easiest (and most effective) ways to help children guide their big feelings to a more manageable place. From early childhood through adulthood, Child's Pose eases people into a calmer state of mind. Begin by having children practice for a few breaths when they are already calm, and slowly introduce them to longer periods of time here.
Tree Pose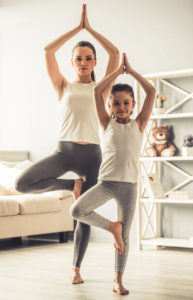 Tree Pose is a great way to practice balance. Kids can start with bringing their foot to their ankle. As their balance increases and you are ready for a challenge, they can try placing the foot higher on the leg. To encourage breathing in this pose, gently blow a breeze through your tree branches!
Dog Pose (Downward Facing Dog)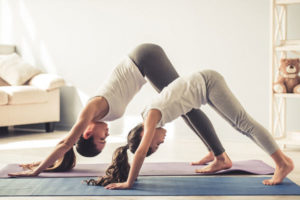 Downward Facing Dog is often the first yoga pose that children learn! It has the ability to be both a calming and energizing pose and helps to get our blood flowing and recenter our focus.
The yoga pose resembles a dog stretching. The child needs to balance the weight of their body on the hands and legs in an inverted "U" position.
If your child is older you can include "peeing dog" (three-legged downward dog)
Superhero Pose (Warrior II)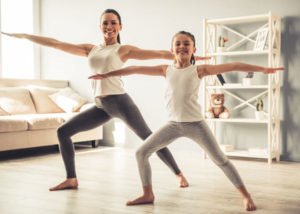 Warrior 2 is an amazing time to work on strength-building and personal growth! Warrior Poses are an excellent opportunity to incorporate affirmations, like "I can do this!"
Use Warrior 2 to improve balance, strengthen legs, and build core strength. Children will also develop their self-confidence, as they focus on their affirmations.
Pretzel Pose (Seated Twist)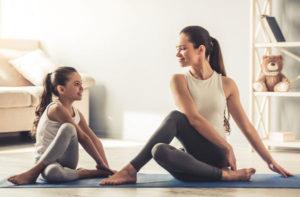 Seated Twist is an excellent stretch for kids of all ages and abilities! Children stretch their upper bodies, as they gently reach into this calming twist.
Snake Pose (King Cobra)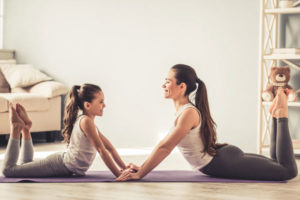 Snake pose is a challenging pose that kids of all ages have fun with! Children strengthen their spines, as they stretch and try to touch their toes to their heads.
Monkey Stretch (Wide legged forward fold)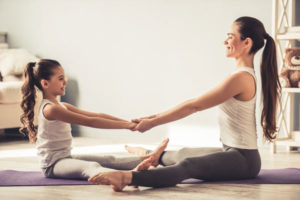 Wide-legged Forward Bend gives kids a new way to sit, as they stretch and improve circulation in their legs. Perfect for circle time, you can have children connect their feet to each other to create a group pose!
Butterfly Pose (Cobbler Pose)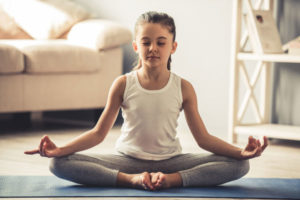 Use Butterfly Pose to help regulate breathing, by having kids focus on Belly Breathing as they wiggle their antennae and gently flap their wings. Children will feel calmer, as they relieve stress and fatigue during this pose.
When we talk of kids, it is pertinent to associate everything fun. Though you tend to focus primarily on the physical and mental growth of your child, doing it in a playful way through yoga can work wonders.
Find more yoga inspiration here!