In a world where our lives are increasingly sedentary and stress-laden, the health of our spine often takes a toll. Back pain, ranging from mild discomfort to debilitating agony, has become a prevalent concern. However, there's a healing pathway that intertwines movement, mindfulness, and breath – yoga. This ancient practice offers a holistic approach to improving spine health and alleviating back pain, promoting mobility, strength, and overall well-being. In this blog post, we'll delve into the anatomy of the spine, understand the dynamics of back pain, and explore a selection of yoga poses tailored to nurture and rejuvenate the spine.
Anatomy of the Spine
The spine, or vertebral column, is a remarkable structure composed of 33 individual vertebrae divided into five sections: cervical (neck), thoracic (mid-back), lumbar (lower back), sacral (pelvic region), and coccygeal (tailbone). Its intricate design houses and protects the spinal cord while allowing movement and flexibility. However, the modern lifestyle, characterized by prolonged sitting, poor posture, and stress, can lead to imbalances and discomfort.
Understanding Back Pain
Back pain can emerge for various reasons, including muscle imbalances, poor posture, injury, or stress-related tension. Yoga provides a multidimensional solution by addressing both physical and mental aspects. The practice encourages self-awareness, mindfulness, and conscious movement, offering a transformative journey towards pain relief and spinal health.
Yoga's Transformative Role in Spine Health and Back Pain Relief
New on YouTube: Yoga for Spine Mobility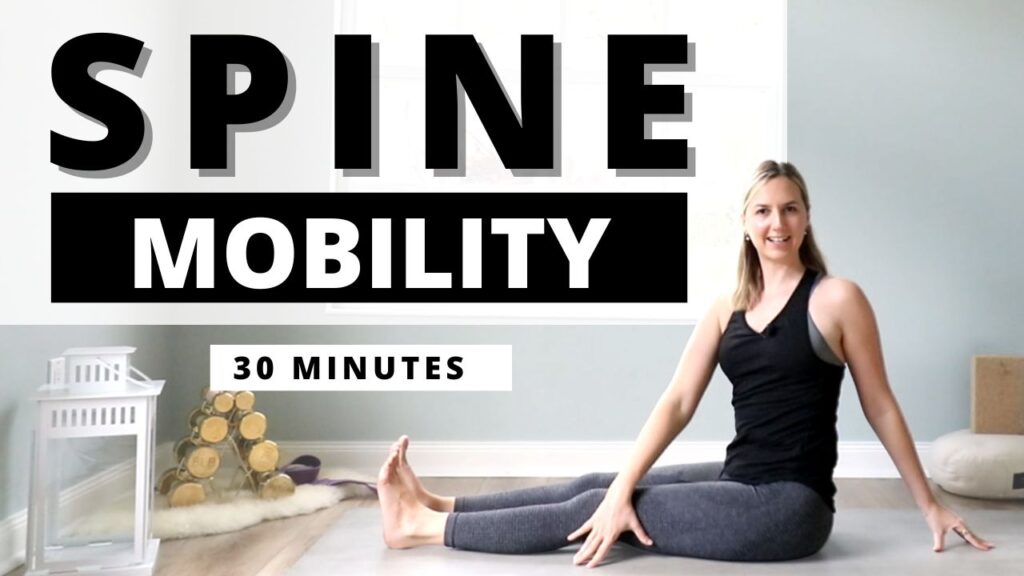 Click here to practice with me!
Yoga – a holistic practice
Yoga's impact on spine health and back pain relief is profound and holistic. The practice's essence lies in its ability to address the body and mind as interconnected entities, fostering a synergy that promotes overall well-being. Yoga encourages proper alignment, muscular balance, and enhanced flexibility through deliberate and conscious movement. It promotes awareness of body mechanics, helping individuals identify and correct habits that contribute to spine discomfort. Moreover, the practice encourages mindfulness, teaching us to listen to our bodies, respect their limits, and avoid pushing beyond what's sustainable.
Focus on the breath
The practice's emphasis on breath is equally pivotal. Deep and mindful breathing oxygenates the body and fosters relaxation, releasing physical and emotional tensions that often exacerbate back pain. Breathwork complements yoga poses, facilitating the release of muscle tension and enhancing blood flow to nourish the spine.
Strong muscles & strong mind
Incorporating yoga into one's routine can also strengthen the muscles supporting the spine. A robust core, balanced muscle engagement, and improved posture all contribute to spinal health. Furthermore, the mental benefits of yoga – stress reduction, increased body awareness, and improved mental focus – create a favorable environment for the body's natural healing processes.
Yoga Poses for Spine Health
Whether you're a newcomer seeking relief from back pain or an experienced yogi aiming to maintain a supple and strong spine, yoga's comprehensive approach can provide long-term benefits. As we flow through asanas, focusing on alignment and mindful movement, we actively work toward spinal health. By embracing yoga's teachings, we're investing in a life of greater comfort, mobility, and vitality – a journey that transcends the mat and transforms the way we move through the world.
Here are some yoga poses that can improve spine mobility: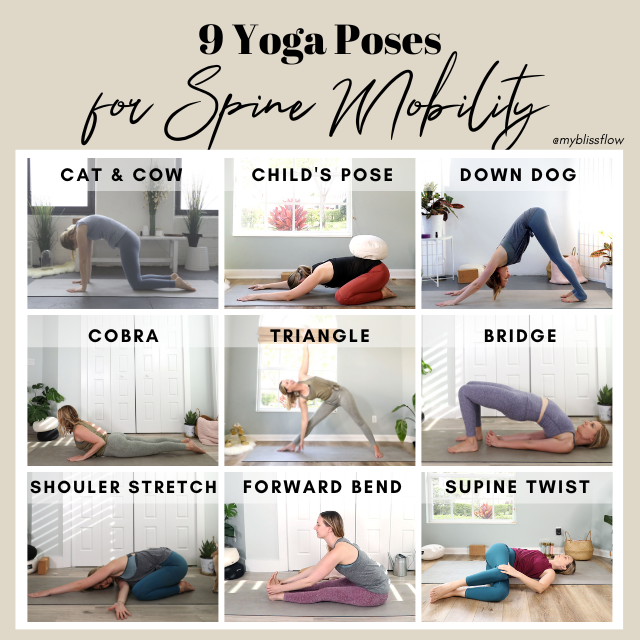 Cat & Cow (Marjaryasana/Bitilasana): This gentle flow flexes and extends the spine, massaging and lubricating the intervertebral discs while improving flexibility.
Child's Pose (Balasana): This restorative pose gently stretches the lower back, relieving tension and promoting relaxation.
Downward Facing Dog (Adho Mukha Svanasana): A foundational pose that lengthens the spine, strengthens the core, and opens up the shoulders, creating space and stability.
Cobra Pose (Bhujangasana): This backbend extends the spine, improving posture and strengthening the muscles along the spine.
Triangle Pose (Trikonasana): A lateral stretch that lengthens the spine, relieves tension in the sides, and improves balance.
Bridge Pose (Setu Bandhasana): An energizing pose that strengthens the back muscles, opens the chest, and stimulates the thyroid gland.
Child's Pose with a Shoulder Stretch: A modified version of Child's Pose that incorporates a shoulder stretch, releasing tension in the spine and shoulders.
Seated Forward Bend (Paschimottanasana): A calming pose that stretches the spine and hamstrings while promoting relaxation.
Supine Twist (Supta Matsyendrasana): This gentle twist revitalizes the spine, massages internal organs, and relieves lower back tension.
Yoga is a holistic remedy for back pain and spine mobility concerns by fostering awareness, mindful movement, and a deeper connection with the body. Yoga cultivates a harmonious relationship between mind and body through a combination of asanas, breathwork, and meditation. By embracing the wisdom of yoga, we can alleviate back pain, restore spine mobility, and embark on a journey of well-being that nurtures every facet of our existence. Whether you're a seasoned yogi or new to the practice, embracing yoga's transformative potential can unlock a life of greater vitality, freedom, and comfort.