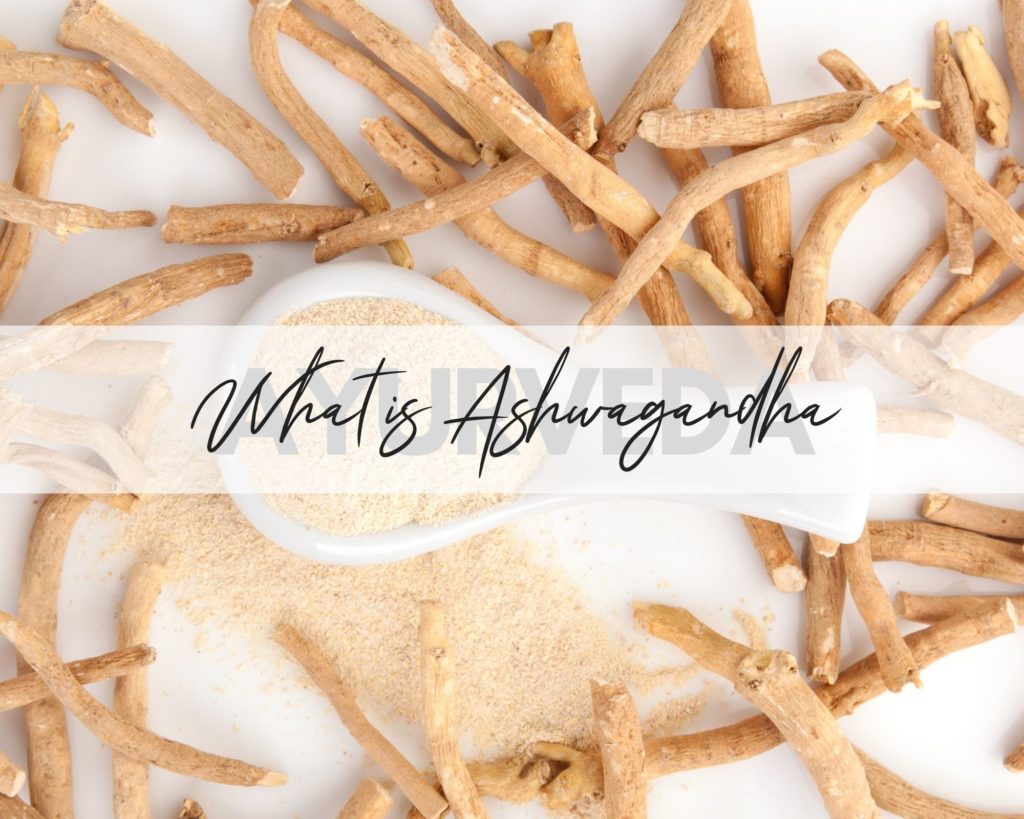 Ayurveda is the study of life, and it includes practices, routines, and recipes for a healthful, balanced life in tune with our universe. We live with the seasons and circadian rhythms, nourishing our bodies with bounty from the Earth. Ayurveda isn't just about healthful recipes, it includes medicinal ones as well. While listening to our doctors and utilizing western medicine is crucial when we're sick, we can blend natural and herbal remedies into our routines to keep ourselves healthy, too. One such powerful Ayurvedic herb is Ashwagandha. 
Ashwa-what?
Ashwagandha is an evergreen shrub that grows in India, the Middle East, and parts of Africa. Its name comes from the Sanskrit words "Ashwa," meaning horse, and "Ghanda," which means smell. The overall rough translation is "the smell and strength of a horse." This bush is short, squat, and sports velvety leaves and bell flowers containing orange berries. These berries resemble small tomatoes. This plant grows best in temperate climates.
Why Is Ashwagandha Important?
Why am I telling you about an Indian bush? Ashwagandha is special because every part of it can be used for medicinal purposes. In fact, this plant has been used in Ayurvedic medicine for thousands of years. Our ancestors knew this plant – and named it – its therapeutic and strengthening qualities. Ashwagandha is considered a: 
Rasayana

, meaning it is something that helps lengthen your lifespan. 

Adaptogen

, meaning it helps the body adapt to stress.  

Bhalya

, meaning it increases strength.

Vajikara

, meaning it promotes healthy sexual function.
Ashwagandha is calming, restoring, and grounding. It helps us adapt to a stressful environment, supports the nervous, endocrine, and cardiovascular systems, and promotes immune health. 
Ashwagandha For Stress
The stress hormone in our bodies is called cortisol; this is our "fight or flight" response. Cortisol follows natural daily rhythms, but sometimes extra pressure in our lives can throw this rhythm out of line, which can negatively impact our nervous system's function. Ashwagandha can help regulate our cortisol levels and reduce the inflammatory response stress hormones cause. 
Many health issues are traced back to unhealthy stress levels, so regulating this process can benefit almost every bodily system, especially our cardiovascular, nervous, and immune systems.
Ashwagandha For the Nerves
Our nervous system is responsible for every breath we take, every feeling we have, and every decision we make. Ashwagandha supports our nervous systems' structure and function. This herb has also been shown to promote healthy cognitive function. 
As if Ashwagandha wasn't cool enough, this useful bush supports the pathways in the brain for a specific neurotransmitter responsible for giving us feelings of calmness and maintaining muscle tone. So if you want to be at peace but also ripped, don't forget to take your ashwagandha!
Ashwagandha For Reproductive Health
In our endocrine system, the adrenal glands are what it's all about. That means that reproduction takes a back seat in stressful survival situations where we need adrenaline to keep us alive. In this situation, stress response can decrease sperm count and prioritize the production of cortisol over reproductive hormones such as progesterone, estrogen, and testosterone. When Ashwagandha helps us regulate our cortisol levels, it brings our adrenal glands back into balance so our bodies can focus on producing balanced amounts of our sex hormones. 
How To Use Ashwagandha
We can use every part of the plant medicinally. Here's how:
Roots
The roots of the Ashwagandha are the most-used part of the plant. These roots are crushed into a powder called churna. Ingest the powder to help relieve conditions such as:
Constipation

Insomnia

Goiter

Rheumatism

Nervous breakdown

Leucoderma
You can also add the powder to water, ghee, or honey to create a paste. Apply this paste to joints for relief from pain and inflammation resulting from injury or arthritis. Ashwagandha root has antibacterial and antimicrobial properties. This herb can protect the skin from acne and infections, treat pimples and blackheads, and reduce scars when applied topically. It also boosts collagen to decrease signs of aging. Whether using the powder or paste, always ensure you have a fresh supply for best results. 
Leaves
Ashwagandha leaves are bitter but rich in iron. Consuming the leaves in a tea can relieve symptoms of anemia. This tea also serves as a tonic to increase energy, relieve fever, and decrease painful swelling. 
Flowers
The flowers of the Ashwagandha plant are an astringent, diuretic, and aphrodisiac.
Seeds
Ashwagandha seeds are anthelmintic, meaning they help destroy parasitic worms. In addition, they can be combined with an astringent and rock salt to remove white spots on corneas. A tonic prepared from the seeds can treat anxiety, memory loss, and hysteria. 
Contraindications
Like all herbs and medicines, there are things to take into account when you choose to ingest Ashwagandha. 
Large doses of this herb can cause stomach aches and diarrhea. 
Though plenty of pregnant women have used Ashwagandha without issue, western medicine recommends avoiding the plant during pregnancy. It causes spasmolytic activity in the uterus and has caused abortions in some animals under large doses.
If you have excess pitta, take caution with ashwagandha as it can be too heating.
Ashwagandha Tonic Recipe
Ingredients
1-2 teaspoons Ashwagandha powder (fresh)

1 tablespoon raw sugar

⅛ teaspoon cardamom

2 cups milk
Directions
Add milk and Ashwagandha powder to a small pan and simmer on low heat for 15 minutes.

Add the sugar and cardamom, stirring until mixed well. Remove from heat.

Drink a cup up to twice a day to enjoy medicinal and calming properties.