Are you new to the world of Ayurveda and yoga? Welcome! If you're a seasoned yogi, welcome back! No matter how long you've been rolling out your mat for yoga, whether it's been a few weeks or several years, we can all benefit from the basics. Read about tips for beginners and about the 5 yoga poses for beginners that are essential for every yoga practice.
Free Yoga Class For Beginners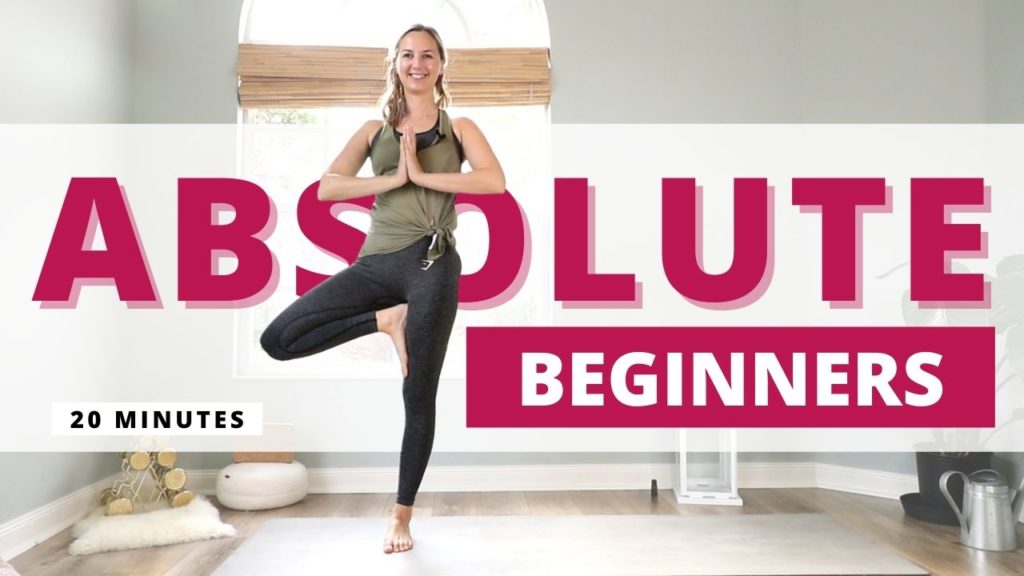 5 Essential Yoga Poses For Beginners
1. Cat & Cow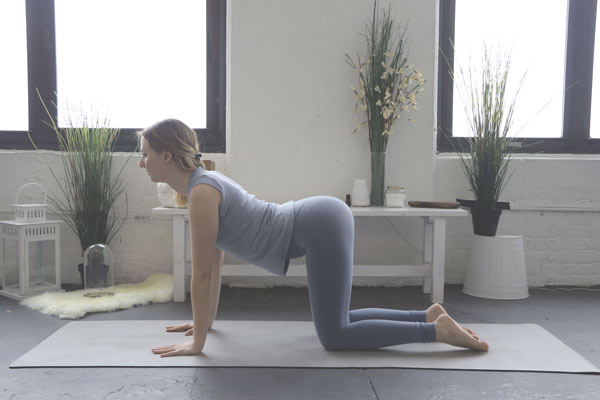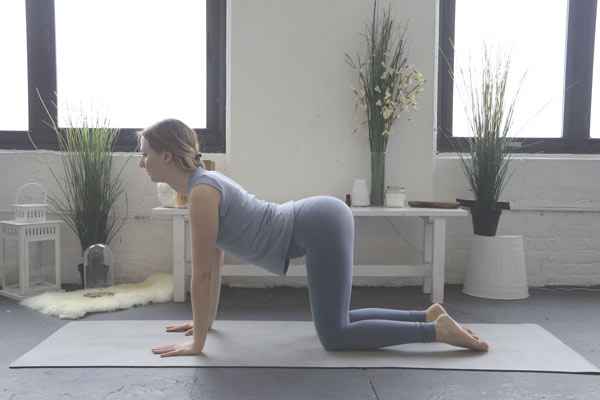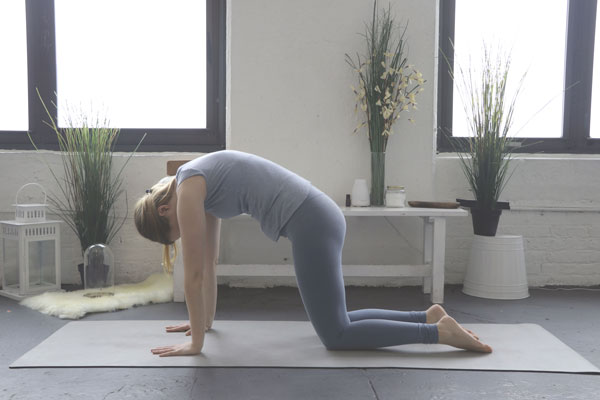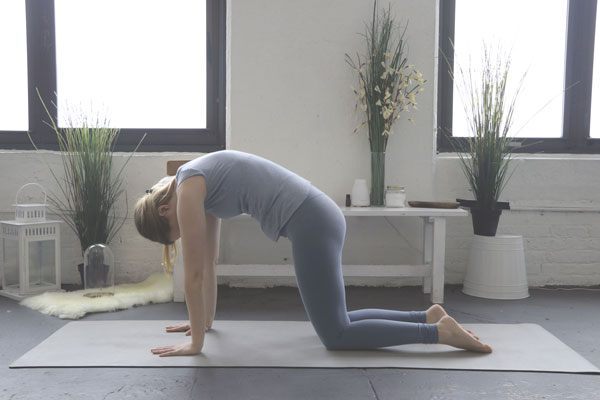 The cat-cow pose is a series of two poses: cat pose and cow pose. This asana involves taking your spine from a rounded position into an arched one. To perform cat-cow, begin with your hands and knees on the floor. You start with a neutral spine straight, then lift your chest up and drop your belly as you inhale. This is cow pose. On your exhale, you move your back into a rounded spine and let your head hang heavy, and this is cat pose. Repeat the transition between poses during each inhale/exhale for 5 to 10 breaths, then return to a neutral spine.
Benefits: cat-cow improves spinal flexibility and frees tension in your body. The intentional pairing of your breath with the arching and rounding of your back creates an invigorating connection between your mind, body, and spirit and helps open up your chakras. Of the yoga poses for beginners, this one best increases circulation, especially in your back, and stretches your neck, back, and torso.
2. Downward Facing Dog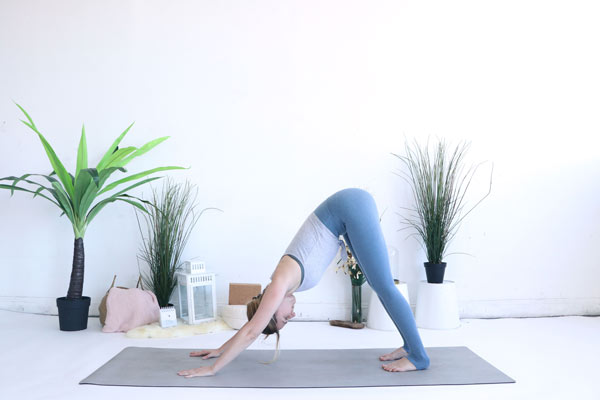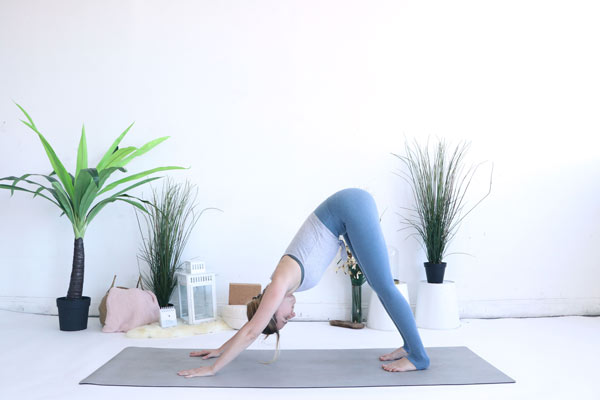 This pose is one of the most recognizable asanas, and for a good reason, it's essential to contemporary practice and, therefore, always one of the first you learn. The downward-facing dog can be both a transitional pose or a resting pose, so it's fantastic to incorporate into a flow. For this pose, you begin on your hands and knees. You curl your toes underneath you and push through your hands to lift your hips until your legs are straight. Both your back and legs should straighten until you form an upside-down V shape with your body.
Benefits: This pose is an excellent stretch for your hamstrings and calves. It increases strength in the external obliques of your abdomen as well as in the arms and legs. Due to the mild inversionary nature of the pose, it encourages blood flow to the brain and releases some of the normal strain on your back. When incorporated into regular practice this pose can help relieve chronic back pain.
3. Tree Pose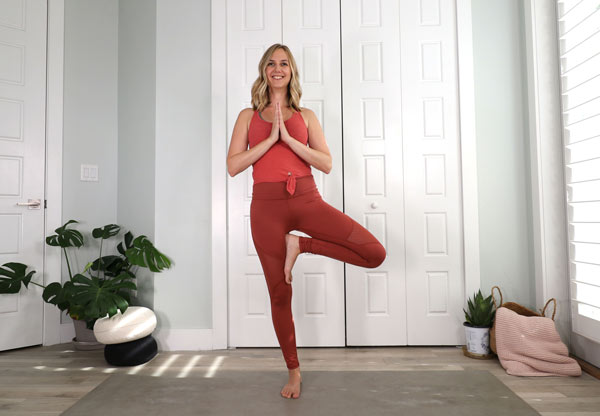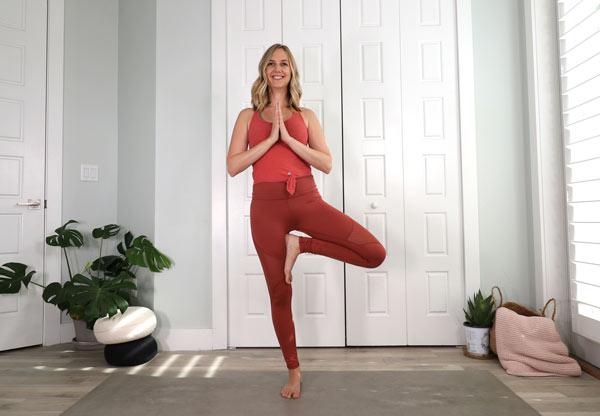 Tree pose is a great first standing-balance pose for beginners. Start with both feet evenly space on the floor. Next, slowly shift your weight to one foot and bring the other up until the sole of your foot is resting on the inner thigh of your balance leg. Keep your hips straight and try not to lean to one side. Focus your gaze on something in the distance and maintain your balance for 5 to 10 breaths before shifting to the other foot and doing it again.
Benefits: Tree pose strengthens your legs and core. It also is fantastic for opening the hips and stretching the muscles in your groin and inner thigh. The best part of this pose is how it builds balance, which is incredibly helpful as you progress into your yoga practice. 
4. Supine Twist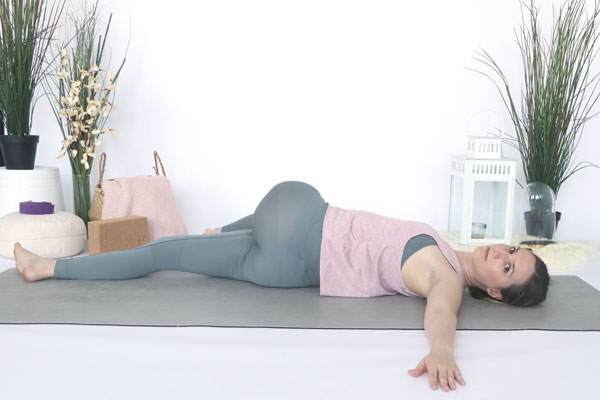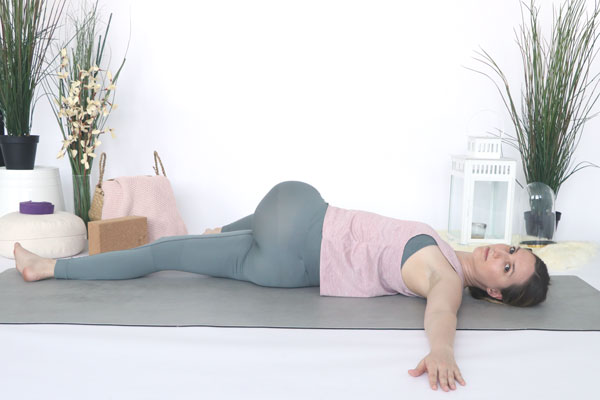 This pose begins with you flat on your back, with bent knees and the soles of your feet on the floor. Lift your hips off the floor slightly and draw one knee to your chest as you straighten the other leg out. Cross your knee over your midline until your hips are stacked. For stability, you can hook the foot on your bent leg behind the knee of your straight leg. Keep your arms flat on the floor and parallel to your shoulders, palms facing down. Hold this pose for 5 to 10 breaths, then switch to the other side.
Benefits: This pose is a great stretch for the glutes, obliques, and chest. The chest stretch in particular does wonders for your chakras, especially your heart chakra. Like cat-cow, a supine twist improves spinal mobility and flexibility. This pose also helps aid digestion and can work as a relaxing pose at the end of a yoga session. 
5. Savasana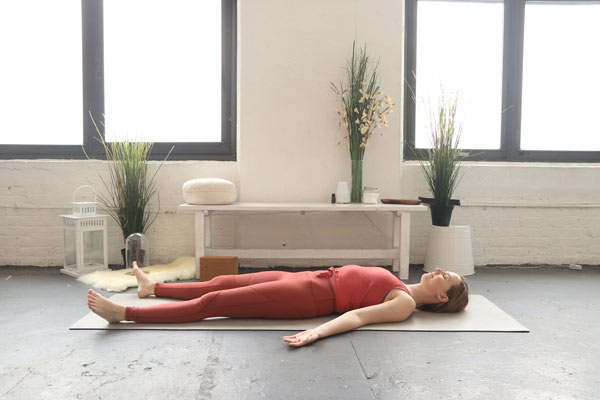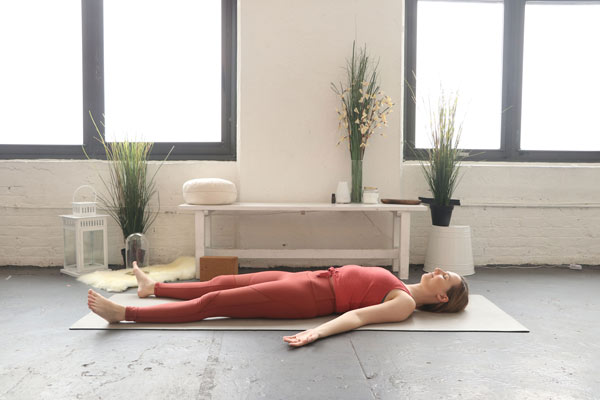 Savasana is also known as Corpse Pose and is the ultimate final relaxation pose in a yoga flow. It's also straightforward to do. Simply lie down on your back and slightly separate your legs. Let your feet fall open to either side. Keep your arms alongside your body but slightly apart from your torso. Turn your palms upwards but relax your palms and fingers. Release any tension from your body, allowing yourself to almost melt into the floor. Breathe naturally for at least 5 minutes. In the end, slowly awaken your body, wiggling first your fingers and your toes. 
Benefits: Of the yoga poses for beginners, the best benefit of savasana is the stillness, the calm. This physically effortless pose provides a necessary contrast between the rest of your yoga session. Take the time during this pose to process what happened while you went through the rest of your set. Work on quieting your mind while you allow your body to rest.
Yoga Poses For Beginners and Beyond
Join us and begin your journey to mindfulness and peace. Once you master these 5 essential beginner yoga poses, you can move on to more difficult and intricate asanas. It won't take long for you to see how yoga can completely change your life, as it has for countless others.
Start your Yoga Journey with Sun Salutations
Sign up for my free 3-day video series to learn this basic series of yoga poses. Sign up here!