Did you know that the main reason I started yoga was back pain? As some of you know, I work in the financial industry and I sit a lot. Most of my days are filled with meetings, excel sheets, hundreds of emails, and PowerPoint presentations. This led to massive pain in my upper back and shoulders.
The only thing that helped me was yoga. Before I started yoga, I went to the gym 2-3 times a week but this somehow did not make my back better. When I practice yoga a couple of times a week, the back pain is gone. It's magic.
New YouTube video: No More Back Pain

Click here to practice with me on YouTube
Why does Yoga Help With Back Pain?
Back Pain is often caused by too much sitting or standing. However, the true root cause of back pain is often psychological. We all bear a lot of weight on our shoulders and we are stressed. This leads to bad posture which leads to back pain.
That's why yoga is so great for back pain as focuses on the mind-body connection. On the one side it strengthens the body and on the other side it let's us slow down, go inward and connect with our breath. Yoga moves the spine in many directions which improves mobility and builds muscles.
Learn more here about why Yoga helps with back pain.
Yoga Poses to Prevent Back Pain
Here are my favorite yoga poses to prevent back pain. The great thing is that you don't need to invest a lot of time. 5 minutes every day in the morning (or at night) can make your whole week better. 
Cat & Cow
This is my all-time favorite pose for back pain. If you only have 2 minutes, do a couple of cat & cow stretches and you will feel better. It relieves tension, improves mobility, and supports good posture.
Child Pose
Child Pose is great for the lower back. It opens the hips, relaxes the shoulders and lengthens the spine.
Downward Facing Dog
Down Dog strengthens the back and shoulders (who knows a yoga teacher who calls this a relaxing pose? It's not 🙂 ). It also releases tension in the hamstrings and lower back which improves good posture.
Cobra Pose
This pose opens the chest and strengthens the spine. If cobra pose is too much for you, you can try sphinx pose. If you want a more advanced pose, try upward facing dog. These gentle backbends also stretch the core which is important to prevent lower back pain and create a strong torso.
Wind Relieving Pose
This pose actually gives your lower back a nice massage. Just pull the knees gently into your chest and roll from side to side. In addition, it helps you to release gas.
Supine Twist
Actually, all twisting poses are great for back pain. They increase the mobility of the spine and open up the shoulders. The supine twist also eases the pressure on the lower back. 
Eagle Pose
This pose is my favorite for pain in the shoulder area. It is a great stretch for the spot between and under your shoulder blades. You can intensify the stretch when you take deep breaths into your upper body.
Locust Pose
Locust Pose is the best way to strengthen your back. You can play around with the alignment of your arms. You can leave your arms next to you, you can lift them up close to your body or extend them to the front.
Reclined Pigeon Pose 
Reclined Pigeon is probably my favorite for sciatica. It gently lengthens the muscles of your lower back and opens the hips. 
Forward Bend
Last but not least, Forward Bend. You can do it standing or seated even though I prefer a standing forward bend for back pain as gravity helps to lengthen the spine. In addition, it opens up the lower back and is super relaxing for the shoulders.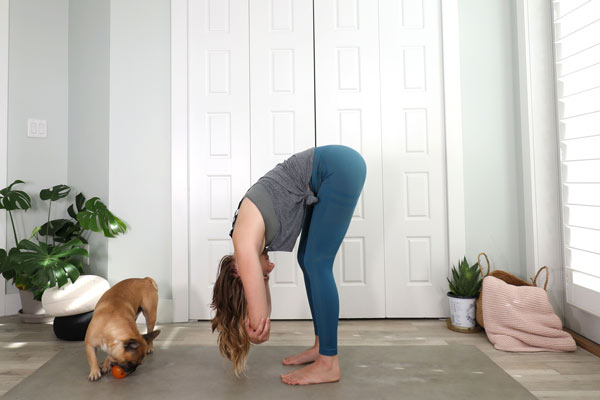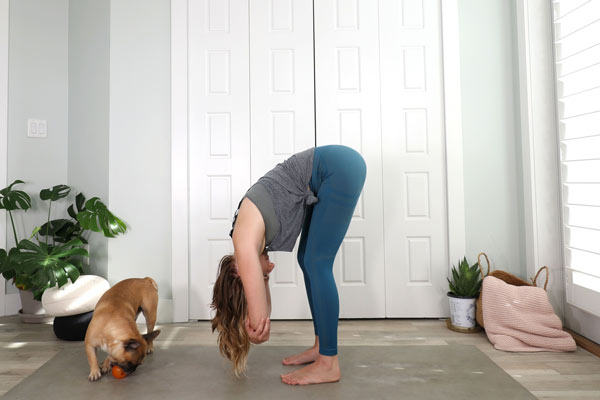 I hope these poses help you on your journey to becoming back pain-free. As always, make sure to check with your doctor first and take it slow. Gentle yoga is more beneficial than power yoga for your back. And remember, it's not only about the body. Back pain always comes from stress, so slow down, focus on your breath and move mindfully.