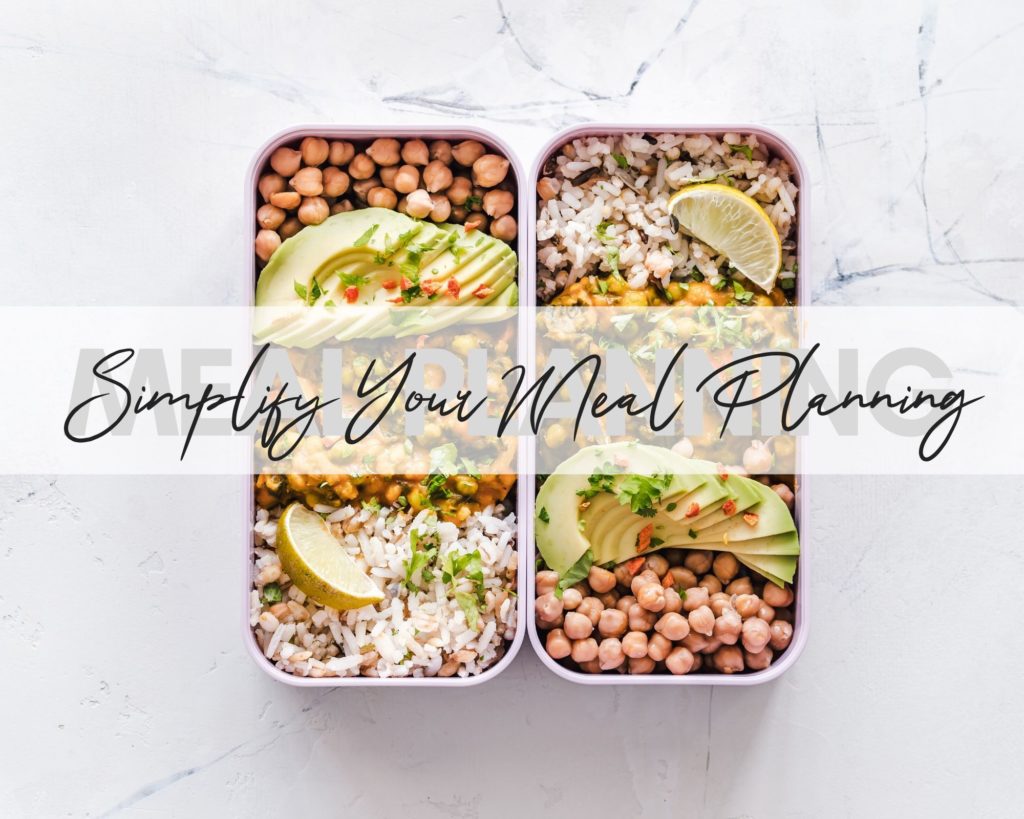 Meal planning can help you consuming healthy, real and nourishing food. It is a principle habit that can make a big difference to your diet and eventually to your life. However, the traditional form of meal planning can often come across as tedious, overwhelming and downright daunting for many people. In fact, this is why many assume that meal planning is time-consuming, complicated and requires you slaving away for hours in the kitchen. Now the best part? This is not always, or often never the case. Adding a bit of intention to your planning and approaching it in an incremental manner can help you go about it with efficiency and ease.
Simplifying your meal planning is about connecting with the meals and extracting that best out of all tips available.
Why Simplify Your Meals
Shortening and easing out your meal prep and plans requires some amount of effort as well as a substantial shift in your mindset. However, this time taken lets you learn a brand-new process and is, eventually, totally worth it. Here are a few reasons why putting some effort in simplifying your planning makes sense:
Streamlines the Process:
Allocating space and time for your meal planning and prep lets you streamline the process of healthy, real and vibrant eating. In turn, it saves you ample money, wasted effort and time in the long term.
Reduces Choice Fatigue:
Deciding your dinner menu and collecting the right ingredients for it requires a lot of mental energy that can be spent well otherwise. Simplifying the process helps reduce decision fatigue and save your mental energy for things that matter the most.
Saves Time for What you Love:
A simplified meal plan means lesser time consumed on running about at the last moment. This gives you more time and space for things you love to do while ensuring that your family enjoys having healthy food every day. Meal planning is like organizing a cupboard. The better you organize it, the more space you get to fit in other things.
Tips to Simplify Meal Planning
When it comes to simplifying your meal plans, there tends to be a slight difference in the way of thinking from individual to individual. While selecting meals, going grocery shopping and finally laying down the food on the table might be overwhelming, you need to find YOUR way. The whole point is to make sure that the concept of connecting with one another does not get lost in the chaos of the entire meal planning.
Here are a few tips that can help you ease down your meal planning:
Block A Particular Day for Meal Planning
Looking for the best way to ensure that you get to plan your meals comfortably every day? Chalk out a date for yourself when you decide to make the meal plan. You often fail to make the plan because you don't take time out to create the plan. You don't consider it to be a priority initially and then once the week comes to an end you don't know what to do. The best way to sort this out is to make it a part of your daily schedule and transform it into a habit. Decide now on which day you prep, when you buy the groceries and when you prepare the meals.
Plan Before You Prep
Now here is the thing – having a flexible, sorted out plan for the week gives you an opportunity to prep with a purpose. Purchasing all the groceries you need the prior day, is half the battle won! Take out a few minutes once a week and make a list of all the necessary things you need before you head out to the store. Prepping yourself a little before cooking gives your meal a jumpstart. You can use these Meal Planning Pads for the fridge.
Chalk Out a List of Family Choices
You might find it difficult to believe, but you really don't need to churn out original and new recipes every week. It is no sin being loyal to a few true favorites that you and your family love gorging on every time. The feeling of being clueless is quite common every time you sit down to make a meal plan. This is where your list of favorites comes in handy! It acts as a starting point for the remaining meals that you plan.
Simplify the List
Do you know the easiest way to simplify your meals? By cooking simple meals. It is not necessary for you to obsess over laying out a grand feast every time you cook for your family and friends. You can also think of a hearty meal of soup and bread or a simple platter of protein, veggies, and potatoes. Food does not need to be complicated to taste delicious.
31 Meals With 31 Ingredients
There is a good chance that all the ingredients of your favorite meals only use 31 different ingredients. Spend some time brainstorming your favorite dishes and the ingredients that go into preparing these meals. You might end up being pleasantly surprised about the number of meals you can prepare using the same ingredients!
Let the Kids Do Some of It
Kids are the ones who fuss most over food at the dinner table. But do you know the best part? They can be of help. Ask your kids to make you a list of their 7 favorite dishes. In fact, you can also turn it into a learning experience for them by asking them to include a new ingredient like grain, fruit, and vegetable every week and include them in the cooking process. This will keep them busy and build a relationship to their food.
Meal planning is not as complicated as it looks. Putting in a little bit of effort to figure out ways in which you can simplify it, can relieve you of the stress. With a clear plan, you can happily follow your intention of making healthy food and enjoying dinner with your family. Having your meals planned prior and purchasing your groceries helps you look forward to the time when you can focus solely on your family and kids. Most meal plans start out with an aim to feed your family but end as a way to foster your relationships as well.
You might also like our article about Kitchari – an Ayurvedic Cleanse here!