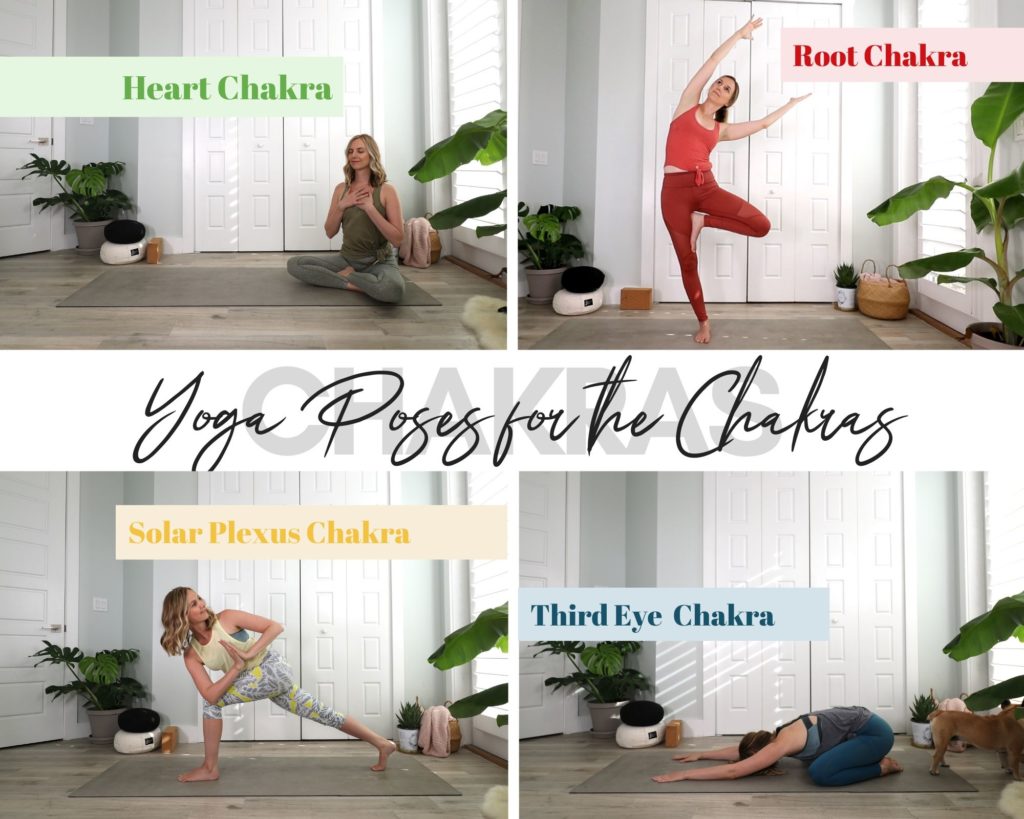 Chakras are energy wheels, or energy centers, located throughout your body. They are prone getting blocked due to issues such as low self-esteem and long-held tension. In mainstream yoga, we hear about the seven different primary chakras often, but there are actually 114 of these wheels of energy within our bodies. A chakra is a pure and continuous source of energy that consists of "nadis," a word that translates to motion or flow. The nadi is responsible for setting your life energy into motion. It is the wavelengths of frequencies that vibrate in your given electromagnetic centers, containing your feelings, values, thoughts, and imprints of your earliest to present-day memories.
How to practice Chakra Yoga
The chakra system in your body provides a theoretical base for finely tuning your yoga practice to best suit your uniqueness, personality, and circumstances. Practicing yoga poses corresponding to each of the seven chakras can clear out the blockades in the system and open your path to higher consciousness. Each of these chakras is associated with performing different functions within the body. They can be related to specific life issues both within the body and in our interaction with the outside world.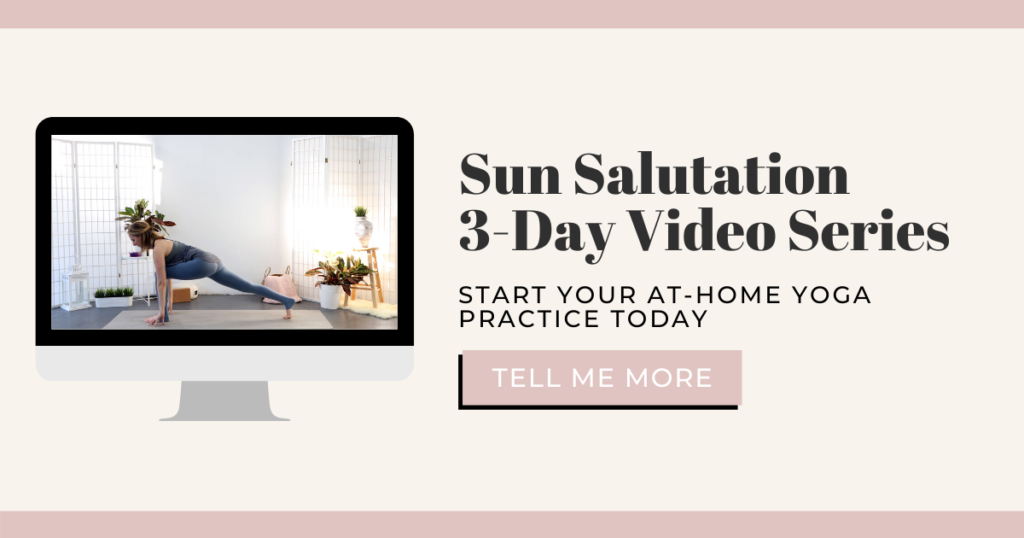 Chakra yoga is known as the practice of using yoga postures, along with controlled breathing techniques called pranayamas, to balance, cleanse, and open the energy centers within your body. Practicing chakra yoga is vital as it helps you keep the body aligned, especially the spine which is the prime route for energy flow. As the chakra system and yoga practice complement each other well, it becomes easy to create a yoga pose specifically for the body's energy system. When a chakra becomes underactive, overactive, or blocked, it can throw you off your mental, physical, spiritual, and emotional balance. Cleansing the chakras becomes a necessity when you want to restore your balance. There are seven primary chakras that run from the base of the spine through the crown of your head.
Different Chakras and Corresponding Yoga Poses
Each of the seven chakras governs specific values and behaviors in your life. These seven chakras dominate your body in terms of energy. Each of the chakras is unique and controls different functions like communication, imagination, love, and material security. They regulate the different systems within the body like the digestive system, skeletal system, and respiratory system. Each of the seven chakras represents a corresponding element of nature, has a vibrational frequency, color, and mantra of its own. Here are the seven different major chakras and a corresponding yoga poses to balance the flow of your life energy:
Tree Pose – Root Chakra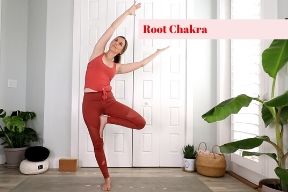 The root chakra is the first chakra of matter and located in the tailbone area at the base of your spine. It represents Earth as its element and is represented by the color red. It controls your survival instincts and follows the "I exist" mantra. A good yoga pose that is relatable for the root chakra is the Tree Pose.
Benefits:
This pose requires you to extend your roots downward and stretch your arms upward.
This pose helps in stretching your torso, groin, shoulders, and thighs.
Practicing this yoga pose tones the abdominal muscles and strengthens the calves and ankles.
Goddess Pose – Sacral Chakra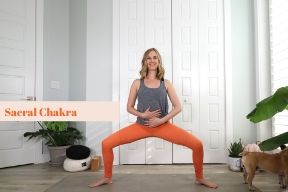 This is the second major chakra of matter and located in the lower abdomen, two inches below the navel. It is represented by the color orange and considers water to be its corresponding element. This chakra governs your sense of sexuality and well-being, and follows the mantra "I will honor others but not before myself." Goddess Pose compliments the sacral chakra perfectly.
Benefits:
Stretches your quadriceps, hamstrings, ankles, and knees and strengthens your entire lower body.
Relieves the stress and symptoms of arthritis.
Fones both the upper and lower body parts while boosting focus and confidence.
Builds both internal and external power and helps you connect with your sensual side.
High Lunge Twist – Solar Plexus Chakra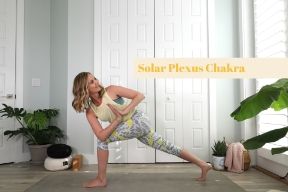 This is the third major chakra of matter and it is located in the upper abdominal region of your stomach area. It is represented by the color yellow and considers fire as its corresponding element. This chakra controls your self-worth, esteem, and self-confidence and follows the mantra "I control my own happiness and destiny." High Lunge Twist Pose fits this chakra.
Benefits:
Practicing this pose stimulates the abdominal organs and improves digestion and elimination abilities.
It also strengthens your quadriceps and the gluteus muscles while developing the stamina and endurance of your thighs.
It improves your overall body balance and posture as well as boosts your concentration abilities.
Camel Pose – Heart Chakra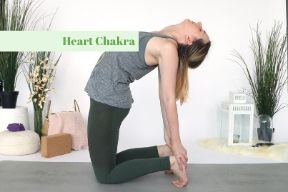 This is the fourth chakra in your system and the first major chakra of spirit, which is located just above your heart, at the center of your chest. It is represented by the color green and considers air as its corresponding element. The chakra is known to govern your inner peace, spirituality, compassion, love, and joy. It follows the mantra "Loving myself makes loving others easy." Camel Pose is known to compliment this chakra.
Benefits:
It is a deep backbend for your upper back, which increases your heart space.
It stretches your entire front body, thighs, groins, and ankles.
Practicing this pose stretches and strengthens your chest, neck, and abdomen.
It improves your flexibility, balances your body's posture, and stimulates the internal organs in the abdominal and neck regions.
Shoulder Stand – Throat Chakra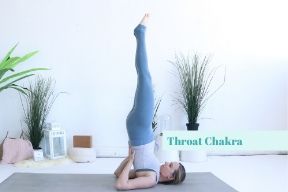 This is the fifth chakra in your body, the second chakra of spirit, and is located in the throat. It is represented by the color blue and its elements are space and sound. The chakra controls your abilities of self-expression, communication, and the power to speak the truth. The throat chakra follows the mantra "I will speak the truth no matter what!" The Shoulder Stand Pose fits this chakra perfectly.
Benefits:
It helps calm the brain, relieve stress, and tackle depression.
It stretches and strengthens the neck and shoulders, releasing all tension accumulated in those areas.
Practicing this pose tones the legs and improves digestion.
It also stimulates the abdominal organs and thyroid gland.
Child's Pose – Third-Eye Chakra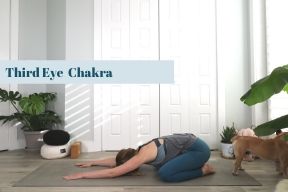 This is the sixth major chakra in the body and the third chakra of spirituality, located between the eyebrows, in your forehead. It is represented by the color indigo or purple and considers light as its element. It governs the ability to tap into your intuition, wisdom, imagination, and rationality while following the mantra "I am the witness." The Child's Pose is the best yoga practice for this chakra.
Benefits:
This pose calms the mind, improves digestion, and stretches and strengthens your lower back.
It releases tension from the body.
It boosts blood circulation, helps fight insomnia, and energizes your body.
Savasana – Crown Chakra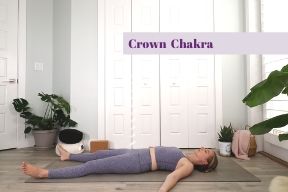 This chakra is found hovering over your crown, on the top of your head. It is represented by the color purple or white and considers cosmic energy and divine consciousness as its elements. This controls your spiritual connection, peace, and your sense of inner and outer beauty. It follows the mantra "I am what I am." Savasana perfectly compliments this chakra.
Benefits:
This pose is close to taking a nap while being fully awake and helps soothe your nerves.
It relaxes the entire body, releases tension, and prevents bouts of anxiety and depression.
It improves concentration and relaxes your muscles.
Practicing this pose stimulates blood circulation and improves mental health.
When you learn about the chakras and their importance in keeping you healthy and balanced, you become more aware of opening them up for utilizing your energy to the fullest potential. Practicing each yoga pose for the balancing of the respective chakras helps you maximize your emotional, spiritual, physical, and mental abilities to live a fulfilling life.